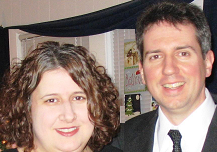 Ken has lived all is life (46 years) in the 12th district. He was born in New Brunswick, grew up in East Brunswick, lived in South Brunswick and is currently residing in Lawrence Township with his family. Ken has worked in a wide spectrum of employment ranging from music and book retail to the non-profit sector. He is a graduate of Middlesex County College and has a degree in Accounting.

Ken is married to the wonderful Nicole, and they have one child, the greatest kid ever - Colin. (who may seek the Presidency...in several decades)

When Ken is not running for congress he has hobbies that include playing softball and rooting on the New Jersey Devils and Rutgers Scarlet Knights. It wasn't the Devils year but this season promises to be better - (hopefully a playoff run or a Stanley Cup would be nice!)

Before Ken was a registered Democrat but just recently he has declared himself "Unaffiliated" with any political party. He decided to make the change to show a sign of unity and for all of us to work together for one goal - to make America the best it could be.

Ken ran as an Independent candidate for Congress (12th district) in 2010 & 2012 receiving 2,154 & 1,285 votes respectively. During his campaigns he pledged not to receive any monetary contributions and fought for strict campaign finance reform. He was the "most economic" candidate that year spending only thirty seven cents per vote and even less in 2012. Once again, in 2014 his candidacy has pledged not to receive any monetary contributions because wasteful campaign spending needs to come to an end.